Please submit your review!
What other's have been saying...
Don't just take our word for it! Check out the following review sites.....
"The service you gave was friendly and helpful and I was delighted with the way you rescued my pride and joy from a nasty bit of car park abuse!"
Russell - Cheltenham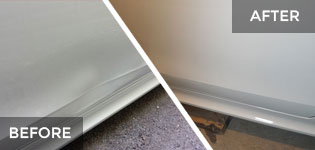 "Very satisfied with the repair to a small dent on the front wing of my car. Friendly service at a reasonable price."
Jonathan - Gloucester
"Mark somehow managed to make an unpleasantly deep dent on the rear corner of our Espace more or less invisible to the eye. He was polite, organised and obviously takes great pride in the quality of the work he produces. Despite me saying it was already fine he continued to work on the dent until it met with his own high standards. All at a price that is well below the effect of a dent on the value of the car should I ever decide to sell it. I would highly recommend his services."
Will Barber - Woodchester, Stroud
"I have used Mark twice now for dent repair and both times he has exceeded my expectations, the quality of work is amazing and I couldn't tell you where any of the dings originally even were. His prices are reasonable and he has always tried his best to complete the work at a time and place that was convenient to me. I cannot recommend him enough.
Max - Cheltenham
"I contacted Mark to look at repairing a series of large dents in my car bonnet after someone had climbed onto my car and run over it. There was a significant number of dents in the bonnet from hand, knee and foot impressions. From the moment I contacted Mark on the phone he was professional and gave me the feeling of great customer service. We made an appointment to come around at look at my car and to give me a quote. The price was very competitive and I agreed for him to commence work that day.

The result of his work is exceptional. He has removed all dents and returned the bonnet back to a near perfect condition. He arrived on time and was courteous and professional throughout.

As he is mobile he came to my home and commenced all repairs on my driveway so there was no inconvenience to me by using a large repair shop who I would have had to drive to and then would have had my car all day. The result being no better and more expensive. I can highly recommend Mark to anyone. Both the manor, professionalism and his quality of work. "
Mr Dodwell - Cheltenham
"Hi Mark, I was more than pleased with my car repair. The service was quick and efficient and having it done at home was great for me. I will definitely recommend you and use you again when needed."
Dave - Gloucester
"After been side swiped in a car park by a complete idiot my R Class Mercedes looked a sorry sight , this is my personal vehicle which also provides me in my employment as a Chauffeur, After meeting Mark and showing my concern he put my worries at ease , we booked the vehicle in for the following week and a complete repair was done to my relief.
All I can say is that if you have a problem regarding Damage on your vehicle give this guy a shout first"
Thanks again Mark.
Rating: 5*
Paul Young